The last weekend of March we hosted our first whisky and superhero pairing event at Happy Harbor Comics in Edmonton which raised money for Team In Training. With the Batman v Superman and Captain America: Civil War movies hitting theatres this year we gave the tasting its own epic showdown between three scotch drams and three international whiskies. For the North America premiere weekend of Civil War, we've decided to share this special roster of whiskies so you too can have your own whisky throwdown.
Team scotch represents a highly regulated industry where the Scotch Whisky Association sets guidelines for everything from distillation to labeling. Whereas team world whisky can do just about anything they please. The six whiskies were paired with Batman, Superman, Captain America, Iron Man, Agent 13 and Black Widow. See if you can guess the pairings, answers are provided below the GIF at the bottom of the page.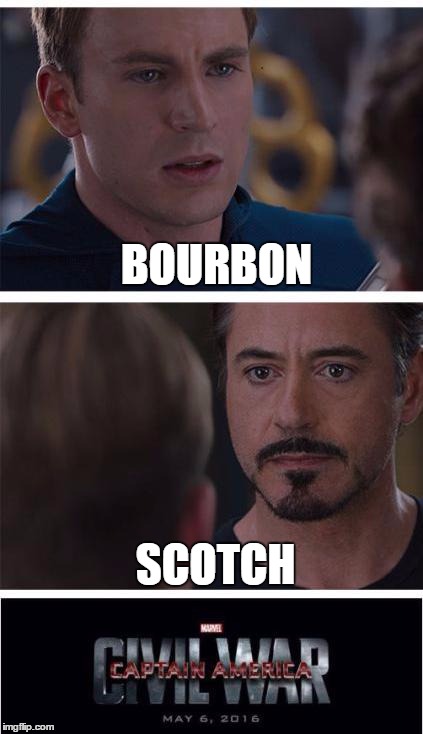 Team World Whisky
Wiser's Hopped
You'll often find this bottle with flavoured whiskies, so most people look right past it thinking it'll be like the other overly sweetened spirits it's sitting next to. Which is very unfortunate as this is an amazing innovative Canadian rye whisky, and has the 2015 Canadian Whisky Award for innovation to prove it. The malty, citrus beer flavour comes from dry hopping the whisky, same as how IPA beers are made, a process that wouldn't be permitted by the Scotch Whisky Association. It's great straight with or without ice or mix it with sparkling grapefruit juice and you have a drink similar to a shandy.
Jefferson's Ocean: Aged at Sea bourbon
This delightful sweet and salty American bourbon was aged at sea on a ship that traveled to 5 different continents. The motion of the ocean certainly added a sea salty touch to an otherwise sweet bourbon, creating flavours reminiscent of eating Cracker Jack at a baseball game. This at sea maturation wouldn't be permitted for scotch as all aging has to occur in Scotland.
Amrut Fusion 
Located in India, Amrut uses barley sourced from Scotland and India to produce this single malt whisky fusion. The much warmer Indian climate means that the whisky matures at a faster rate than in Scotland and many other whisky producing regions. It's estimated that one year of aging at the Amrut distillery is equivalent to three years in Scotland. This is likely part of why Amrut doesn't put age statements on their bottles, since consumers may incorrectly assume a young age statement would equate to the flavours of a young scotch, when what you'll get is something far more robust. You can expect flavours of dark chocolate, citrus and fruit with some peat from this amped up whisky.

Team Scotch
Sheep Dip
This blend marries 16 different malts, mainly from the highlands, to create an earthy, malty warming whisky. The great thing about blends is you can take the best parts from different distilleries to create something new with a varied palate. This blended scotch gets its unusual name from an old trick used by farmers in Scotland to avoid paying the taxes on their whisky. Sheep dip was a de-lousing agent used on sheep before shearing, so farmers would label their whisky barrels as sheep dip. A whisky in sheep's clothing as it were. It's not known if any farmer accidentally tried drinking the actual sheep dip after too many drams.
Highland Park Dark Origins
This particular expression is inspired by the founder of Highland Park, Magnus Eunson, who was quite the whisky vigilante in his day. Magnus worked in a church by day and was a whisky smuggler by night, often using the church as a hiding place. One day Magnus found out that the taxman had figured out his hiding place, so with some help he got all the casks moved to his home and covered them with a cloth and placed a casket on top. The taxman, thinking he has finally caught Magnus, barges in to find a somber funeral scene. Dark Origins uses twice as many first fill sherry casks than the 12 year old Highland Park, which gives it a dark colour and rich nose of nuts and spice, with dark chocolate and dried cherry on the palate.
Glenlivet 18
Whiskies with an age statement are becoming increasingly rare these days as distilleries didn't foresee the upswing in demand. Instead you'll find bottles with creative names such as Macallan's Ruby, Sienna and Amber as part of the 1824 series. There's quite the civil war within the whisky community dividing those that have no problem with No Age Statement (NAS) whiskies from those that think NAS bottles are the absolute worst.  I won't delve into the pros and cons here but suffice it to say if someone pulls out a bottle with an age on it they're out to make a statement, especially if it's an older one. This is a great dram with notes of honey, oak and citrus.
Think you've figured out which hero goes with which whisky? Scroll below the GIF to find out how well you did!

Team World Whisky/ Anti-Superhero Registration
Wiser's Hopped: Agent 13
The unassuming girl next door turns out to be an impressive SHIELD agent!
Jefferson's Ocean: Captain America
All American just like our hero, and also left to age at sea.
Amrut Fusion: Superman
Nothing like a change in environment to give you super powers.

Team Scotch/ Pro-Superhero Registration
Sheep Dip: Black Widow
A blend of skills gives her what she needs to succeed as a super spy.
Highland Park Dark Origins: Batman
Could a whisky named Dark Origins be paired with anyone but Batman?
Glenlivet 18: Iron Man
Show off Stark would love to flaunt his old expensive bottles of whisky. For your own tastings, feel free to replace with any other age statement whisky that you enjoy.